Important note about production times

Due to a nationwide shortage of Sunbrella fabric, most orders will be delayed beyond the dates shown. Our production queue is now completely dependent on which fabric colors we receive, so you could get lucky with a quick turnaround but most orders have to wait for fabric.

Limited availability -- we'll get more but we can't say when


Aquamarine
Burgundy
Cadet Gray
Captain Navy
Charcoal Gray
Erin Green
Forest Green
Heather Beige
Jockey Red
Linen
Marine Blue
Med Blue Tweed
Navy Blue
Rust
Slate
Toast
True Brown

Discontinued colors that are unavailable and aren't coming back:


Aspen
Beige
Baltic Tweed
Baltic Blue
Black Tweed
Blue Tweed
Dove
Ginkgo
Forest Tweed
Linen Tweed
Mahogany
Ocean Blue
Red Tweed
Seagrass Green
Spa
Tan
Teal
Wheat
Yellow

Currently, Sunbrella shipments arrive without warning and fail to arrive without notice. But it will arrive, we just don't know when. We recommend ordering now so you have a place in line. We authorize your card upon purchase but that expires in a week and we don't collect payment until the product ships. You can cancel any time until fabrication begins. Thank you for your patience during this challenging time.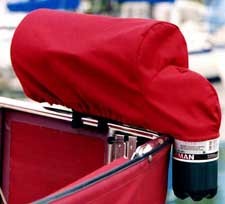 By popular demand Finally, a cover designed to fit the Force 10 BBQ.
This cover is an attractive, form-fitting, slip-over with elastic sewn into the bottom hem to keep it secure. For the models with external propane bottles, an extension was added to the basic cover to protect the propane valve.

The Force 10 BBQ covers are available in any Sunbrella fabric color. If you don't see your color listed below, select "other" from the drop down menu and note the color you want in the comments box at checkout.


How to determine the size: Measure the body of the grill PLUS the regulator. Compare to the dimension specified in each size.