M-MB308 Machinery & Equipment Oil Sorbent Mini Boom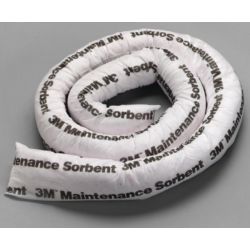 2 Gallon Capacity 8 ft Long
For control of accidental and routine leaks, drips and spills of oils, lubricants, and other non-aggressive liquids found commonly in industry.
The sorbents are designed to help maintain a clean and safe working environment.

Maintenance sorbent mini-booms can be placed around the base of equipment to help contain fluids that may leak or spill, preventing spread to adjacent work areas.

Maintenance Sorbents are made from inert, synthetic fibers principally polypropylene and polyester.
They are available in a wide range of formats and are lightweight and nominally dust-free.
They have a high absorption capacity which minimizes the amount of waste for disposal.